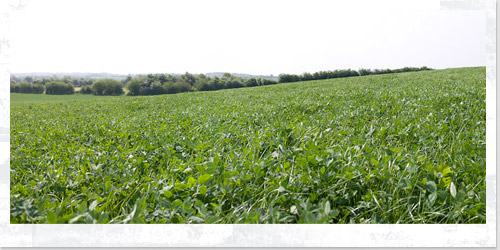 The soil must be man's most Treasured Possession. So He who tends the soil wisely and with care is assuredly the foremost among men. Sir George Stapleton
History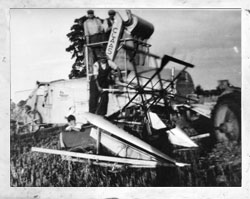 Ballard Organic Farm, which is also an open farm or visitor farm, has been owned and operated by the Lalor family since 1844. During the following 100 years the farm was in reality, operated as an organic farm. For the next 50 years, it joined in the industrial revolution which took place in farming involving the use of synthetic chemicals to boost crop and animal production and to control unwanted weeds and diseases.
My late father, Thomas J. Lalor, who passed away in 1987, was an innovator in many ways in modern Irish farming during that era. In July 1939 he erected a windmill for pumping water to cattle, which replaced having to pump by hand. The total cost of the windmill was £47 and every single scrap of documentation regarding the purchase and erection of the windmill is still on file. In the 1940's he was the first to have a Lanz tractor in this area and was the second farmer to buy a Claas combine harvester in the midlands. In 1956 he was the first farmer in Ireland to erect a 'self-feed' silage system, which over the next 25 years became the standard system for winter feeding of cattle. He was also a breeder of pedigree cattle and pigs in his earlier days and was an exporter of store cattle to UK farmers for over 30 years.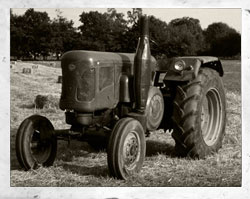 Those years saw the reclamation and drainage of many farms in Ireland and the increase in agricultural output was significant. Farmers began to move away from hay making and into silage which was less dependent on good weather for saving. Farms became mechanized with the evolution of modern farm machinery and this was a fantastic step forward for those working on farms. At last the amount of pure hardship was begining to decline on Irish farms and Ballard Farm was not behind in this development. In the 1950's there were at least three men working fulltime on the farm, plus my four brothers during holiday time. Now, even though output is much higher, there is only one person working on Ballard Organic Farm and this is myself. I do all the day to day work including the buying and selling of the animals and the growing of the crops and taking visiting groups around the farm. I hire local agricultural contractors to undertake the big annual operations such as silage making.
The next phase in the development of Ballard Farm surprised many of my farming colleagues and was perhaps seen as a very radical change. In July 1999, I decided to convert to 'Certified Modern Organic Farming' and thus began Ballard Organic Farm. About this time Ballard Organic Farm also became an open farm for visitors.
Why Organic Farming?
During the final three decades of the last century, due to EU regulations, farming production systems in Ireland and across western Europe, became very 'intensive', with the emphasis on maximum production rather than market requirements. This consequently led to over production and the inevitable introduction of 'production limits or quotas'. This has resulted in reduced income from mainstream farming systems and hence the need arose for me to examine other means of land use in order to maintain a viable family income.
I spent a few years looking at a small number of alternatives which might meet my needs and I finally plucked up the courage to go for fully certified Organic farming in 1999. The key issue which swung it for organics was that there was a clear message coming from the market place; 'we want organic food and we are prepared to pay for it'. Therefore, at that time my main reason for changing over to organic production was to 'make more money'.
The experience has been rewarding both in terms of economic returns and job satisfaction.