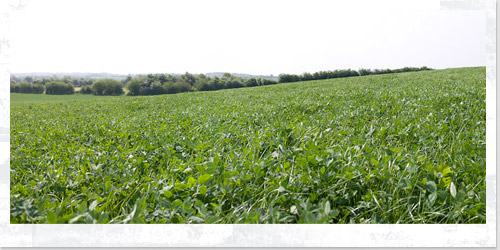 The soil must be man's most Treasured Possession. So He who tends the soil wisely and with care is assuredly the foremost among men. Sir George Stapleton
For operational reasons, Ballard Organic Farm has ceased taking farm visits for the foreseeable future. I wish to thank the thousands of visitors and the many tour companies who supported our family over the last 20 years. It was a most enjoyable experience and one which I will miss.
Kind regards,
Pat
Farm Visits / Open Farm / Argi Tourism Enterprise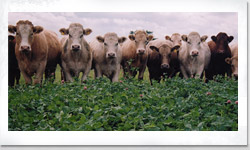 Ballard Farm has been visited by many groups over the years. In 1998 I decided to develop this interest into a commercial enterprise and thus began Ballard Open Farm. As an open farm we now receive visits from groups from many parts of the world and these visitors may or may not be from an agricultural back ground. For groups from a non-agriculural background, the visit is an insight to an authentic modern Irish organic farm and to the life of the farmer and his family. For those directly involved in agriculture, the visit focuses on technical information and although it is an open farm, it is not a pet farm.
All visits are conducted personally by myself.
Who visits the open Farm?
The following groups are typical of the visitors;
Groups from other European countries which have no direct involvment in farming other than to learn first hand how their food is produced and what life is like for the farmer and his family on an authentic modern Irish farm. Ballard open farm provides this.

Groups of farmers or those involved in some way in the agri-business coming either from other countries or further afield.

Groups of retired people from Ireland or Europe who wish to understand and reflect on farm life as it is today.

Groups of second-level and third-level students from Ireland and other countries, who either visit out of a general interest in broadening their education or who have a need for specific knowledge on a relevant subject e.g. science, food production, geography, the environment or rural development.
Educational Groups
The open farm is also used by students who are studying Agricultural Science for the Leaving Certificate. As part of their course and examination, each student is required to undertake a project based on a subject related to Agricultural Science. Students who avail of the knowledge, experience and facilities of the open farm, will have the opportunity to complete a project which is interesting, relevant and scientific. Students will visit the open farm for two to three hours, will be provided with a farm map and a farm yard map, will receive details of crop rotations, production methods and levels, soil analysis and soil biological activity levels, markets etc. In addition, a follow up service is provided by phone to clarify issues and to answer further queries which may arise before the project is finally submitted.
Visits by appointment only
As the open farm is an actual working farm, it is necessary for groups to make arrangements before visiting so that I am available to show visitors around the farm. The farm is operated as an open farm from March 1st until October 30th.
Duration of visit
The normal length of the visit is one to one and a half hours, depending on the requirements of the group.
Shoe clean
The farmyard at the open farm is 'shoe clean' and therefore it is unnecessary to bring any special foot ware.
What's Covered?
While visiting Ballard Organic Farm the following topics are covered.
EU Schemes
To most people outside of farming, EU policies on agriculture and related matters are almost impossible to understand. In order to assist visitors and especially students to understand these policies, an over view will be given on the history of the EU and its policies on agriculture and in particular how these policies affected Ireland.
Irish Agriculture
Visitors will be given an overview of Irish agriculture including details of farm size and income, land ownership, farm enterprises, rural development and future prospects for farming.
REPS
The Rural Environment Protection Scheme (REPS) is a voluntary scheme which encourages farmers to take good care of the environment. Ballard Farm participates in this scheme and details are available to visitors.
Renewable energy
The installation of a windmill and solar panels for the generation of electricity and for the heating of domestic water are unusual in Ireland. Explanations of these installations are given to help visitors understand the wonderful resources which remain untapped.
Geology
There is quiet a unique and interesting geological feature on the farm. As many people will know, the Irish midlands is a limestone area but one area of this farm is littered with sand stone rocks, which is very unusual. An explanation was sought from a geologist and the story of theses rocks is most interesting.
Work calendar
A detailed explanation on the work calendar for the farming year is given to visitors to assist them in understanding the seasonal nature of of an open farm.